Elevate your data analysis with CellEngine
Our proprietary cloud-based flow cytometry analysis software called CellEngine evolved from a continuous collaboration between our scientific and bioinformatics teams, ensuring the analyses we do are accurate and relevant. Allowing for blazing fast analysis and easy collaborative access to data, the software is particularly appealing for groups performing global data analysis with a high volume of FCS files from flow cytometry or mass cytometry.
Data visualization can easily be tailored to your assays, and the software can be integrated into custom analysis pipelines, LIMS, ELNs and EMRs via the API.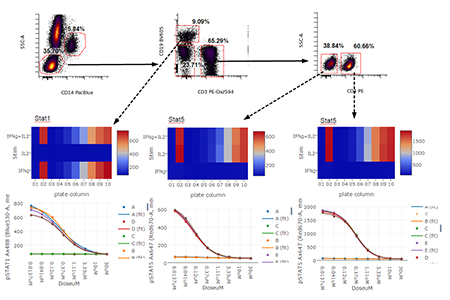 Benefits and Features of CellEngineCloud-based Software
Unmatched Performance: The fastest analysis, whether you have just a few tubes, dozens of 384-well plates, or multi-gigabyte FCS files.
Metadata-Driven: Use your experimental conditions (e.g. timepoints, donor IDs, dosages, and genotype) to tailor your gates and layout visualizations. Annotate via a familiar spreadsheet interface.
Advanced Charting and Visualizations: Create bar and line charts, box plots, heatmaps, flow plot overlays, gating hierarchies, and dose-response curves. Analyze replicates to assess variability. Export as high-resolution graphics for use in publications and slides.
Interoperable and Compatible: Easily import experiments from other widely used cytometry software. Tested with FCS files from more than 45 different cytometers and over a dozen manufacturers.
Advanced API: Use our API to integrate with your LIMS or EMR and to conduct advanced analyses. We provide and support API toolkits for R and Python.
Safe and Secure: Data is stored in multiple geographic locations for protection against natural disasters and hardware failures. All data is encrypted in-flight and at-rest.
Tested by Immunologists: CellEngine is used in-house daily and our developers work closely with our scientists to create the best analysis experience possible.
Compliance: CellEngine provides all the features required for use in 21 CFR 11-compliant environments. We continuously validate the software with thousands of automated tests to ensure consistent results and performance.