June 23, 2022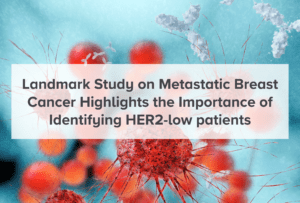 Recent results presented during the keynote address at the 2022 American Society of Clinical Oncology (ASCO) annual meeting highlighted the emergence of a new era for breast cancer treatment. The landmark study on the HER2-directed therapy, Enhertu, found that patients with HER2-negative breast cancer may soon have the opportunity to receive this new treatment based on exceptional outcomes in a Phase 3 clinical trial.
In this pivotal trial, patients with HER2-low metastatic breast cancer treated with Enhertu had a 49% lower risk of disease progression or death vs. patients treated with chemotherapy alone.1, 2 In most subgroups the progression free survival (PFS) was nearly doubled in the Enhertu arm vs. chemotherapy. HER2-positive tumors are routinely identified by pathologists using a combination of immunohistochemistry (IHC) tests and in situ hybridization (ISH). However, the trial results clearly demonstrated that  HER2-low tumors (HER 1+ and 2+) also need clear identification, especially since they are more difficult to distinguish from HER2-negative with traditional methods. 2
Meeting the need for a more quantitative methodology
The Enhertu trial has identified a clear unmet need for more quantitative methodologies for HER2 detection, specifically the ability to distinguish low HER2, and potentially even "ultra low-HER2", expressing populations, who will likely benefit from Enhertu treatment, from those that are truly negative.
To overcome the challenges of antibody-based IHC in detecting HER2-low metastatic breast cancer, CellCarta has developed a precision measurement approach leveraging mass spectrometry based Multiple Reaction Monitoring (MRM). The MRM platform has exceptional sensitivity, specificity, and quantitative precision to measure protein analytes, providing one of the most specific assays for protein measurement.
When it comes to measuring HER2, CellCarta has demonstrated that MRM can provide valuable information to quantitatively characterize HER2 expression in a patient's tumor biopsy. Our method has the potential to improve patient selection and ultimately expand the population of patients who will likely benefit from novel therapies such as Enhertu.
Exceptional specificity for detection of single or multiplexed cancer protein biomarkers
MRM offers absolute quantification and even provides accurate multiplexed quantitation of clinically relevant biomarkers such as HER2. CellCarta offers off-the-shelf multiplexed panels, including our MRM assay for HER2, or rapid development and validation of custom assays, depending on your study needs. We design and validate multiplexes of cancer protein biomarker panels of up to 15 proteins. All of our assays are validated for clinical use under CAP/CLIA and GCLP environments.
About the author:
Nick Dupuis is a Senior Director of Scientific Business Development at CellCarta, specialized in proteomics and biophysical measurement. He has held various roles in industry including as a scientist in LDT/IVD product and applications development, and business development for emerging analytical platforms.
References
Modi S, Jacot W, Yamashita T, et al. Trastuzumab Deruxtecan in Previously Treated HER2-Low Advanced Breast Cancer. NEJM 2022;doi:10.1056/NEJMoa2203690.
Liu A. Fierce Biotech. ASCO: HER2 diagnostics need a revolution as AstraZeneca, Daiichi's Enhertu looks to redefine breast cancer. June 13, 2022. https://www.fiercebiotech.com/medtech/asco-her2-diagnostics-need-revolution-astrazeneca-daiichis-enhertu-looks-redefine-breast